In the past year ecclesias in Kathmandu, have been able to continue to have fellowship within the guidelines of the Covid lockdowns and restrictions. Usually this has been in small groups and  otherwise via the internet, using apps like zoom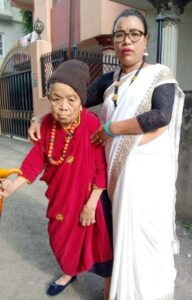 Our brothers and sister in Kathmandu were saddened by the loss of Sister Manmaya of the Chabahil ecclesia. Sister Manmaya was great example to all, she was always at the meetings, even when it required her to walk long distances or take crowded buses. She had been unwell for some time and she will be missed by her brothers and sisters and the many fieldworkers who come to know her over the years. Sister Yogita of the Chabahil ecclesia has been placed in a rehabilitation centre for mental illness, she and her family need our prayers and support at this time. Brother Harkaraj from the Dharan ecclesia passed away. He was living in Aldershot UK and was laid to rest there.
The home of KC family that is also the Dhumbarai ecclesial meeting place has been extended as the family has now grown to 3 generations.
A number of brothers and sisters in Nepal have had Covid and we are thankful that they have all recovered.
The ecclesias have been supported by the ACBM and a number of ecclesial and personal donations at present. Ongoing support is needed in the longer term.
For further information please contact [email protected]