Earlier this year during the Chinese New Year holiday, two of our brothers and sisters from Taipei spent time in Adelaide with one of their interested friends coming along. It was a great time together and gave opportunity for a closer consideration of first principle details in a more personal setting than by Zoom. It also provided our friend with a greater appreciation of the life we live as Christadelphians in a much bigger ecclesial environment. In early April during a Chinese festival the annual Bible School was held over a five-day period. With lower numbers this year, a smaller Airbnb cottage was used that catered for 20 brothers and sisters and friends with some who used their motorhome. A number of brothers and sisters from Adelaide spent time in Taipei and provided two major studies on Acts and Thessalonians. This was supplemented with a number of special one-off topics and also allowed for some ad hoc studies as requested by our friends. Two outings to local villages and well-known tourist destinations provided some good opportunities for more casual discussion and fraternisation. In the week following the Bible School there was opportunity to spend time together around the daily Bible readings in several family homes.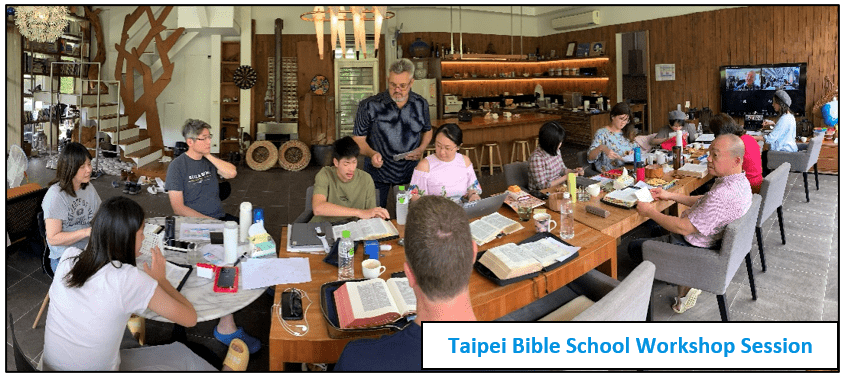 Each week there are three Zoom meetings catering for the spiritual needs and education of brothers and sisters in Taiwan and for those in isolation across China who join the Zoom sessions. In the Bible Class there has been a study on the Kings of Israel and Judah for the past year and this has been invaluable in developing a greater knowledge and understanding of this very important period in Israel's history. Those joining the First Principles class vary from week to week. Recently we have been joined by a Dutch national working in Taiwan and he has become a consistent attender of all meetings with a genuine seeking for truth and enjoying the companionship of the ecclesia.
These activities place a heavy burden on two sisters in Taipei for translation work. To help with this, every second Memorial Meeting is done by Chinese brothers or those whose wives speak Chinese and can translate for them. Notes are always provided and are translated in written form along with the verbal translation for each meeting.