Subscription
You can now subscribe online to the Bible Missionary magazine. The magazine is filled with information to assist all Christadelphians improve their understanding of the circumstances, opportunities and challenges of our bre & sis in various parts of the globe.
For example, you will see in the magazine details of the brotherhood in Tanzania, the difficulties faced by the brethren and sisters in Pakistan, the excitement of baptisms in Guatemala and the state of the brethren and sisters in Kazakhstan. Such examples are but a few of the features that fill each issue, all of which provide an insight, knowledge and hopefully understanding of what it means to be a Christadelphian in places far and wide.
The Bible Missionary Magazine provides a broad view of the brotherhood world-wide and helps us connect with brethren & sisters in thought and prayer, knowing their state, joys & trials as they patiently await the return of Jesus Christ.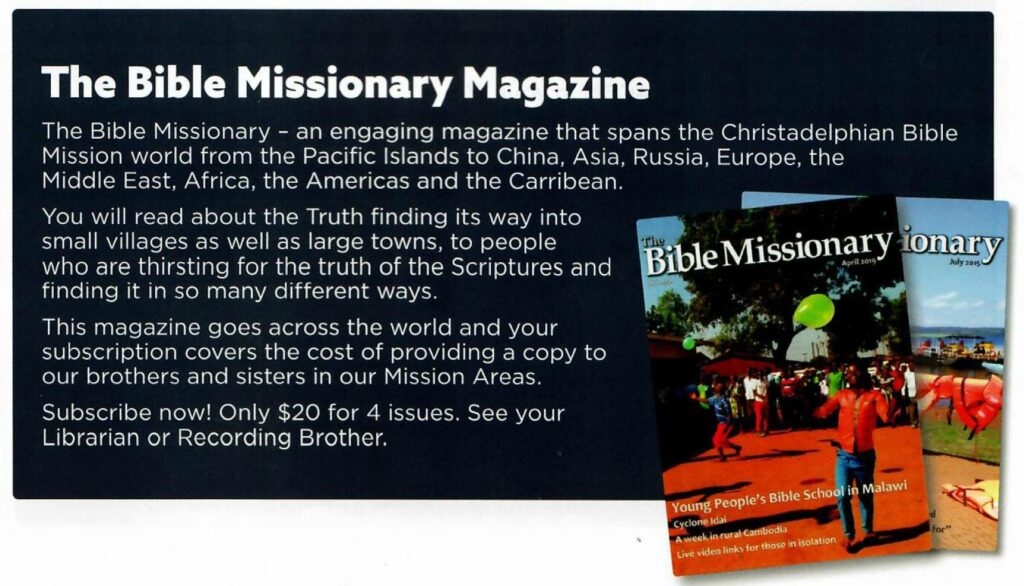 Subscription cost (4 issues) = AU$20.00 or NZ$20.00.
Please include in the description section of your payment:
If a current subscriber – include their subscriber no.
If for an ecclesial parcel – Ecclesias name
If a new subscriber Name, Address, Phone no. and Ecclesia.
Australian Subscribers
New Zealand Subscribers
Contacts
News

Don Phillis

bmm.news@acbm.org.au

+61 8 8339 4599

Distribution

Keith Pearson

bmm.distribution@acbm.org.au

+61 3 8822 0714
More Information