The Gospel Publicity League
In 1939 a zealous young brother in Sydney, Australia, together with a New Zealand convert, initiated a venture which was to assist preaching in many parts of the world, including India. Charles French and his convert Alan Gunn started the Gospel Publicity League and began publishing Present Day Events and their Meaning from the Bible. They also produced support­ing literature, with the Bible Reading Companion and a summary of true doctrines. With minimal advertising, they managed to distribute many mil­lions of these, through some seventy countries. Some of the good seed fell in India. Bible reading charts and Present Day Events were soon produced in local languages.
[nonmember]
[/nonmember]
Meanwhile, following the formation of the Christadelphian Bible Mission in Britain the CBM began advertising in India and Ceylon (now Sri Lanka), and by 1959 had over 500 regular correspondents. A number of brethren – including Brother Ron Hill of New York State, who made a three- month-long visit to the country, and Brother Frank Hanson – were able to rendezvous with some of the contacts. Great quantities of literature were despatched to India. Some of us recall a man by the name of Lenin who was a regular customer and offered to act as agent for distribution throughout the country. It was some time before it was discovered that the monthly despatch of 500 copies of the Glad Tidings magazine was providing a nice little income in rupees for Mr Lenin. He surfaced again two years later, under a false name, for further supplies! A large team of tutors worked dili­gently from the UK for about 20 years until a permanent presence in India was possible, and the Australasian Bible Mission took over responsibility for the area.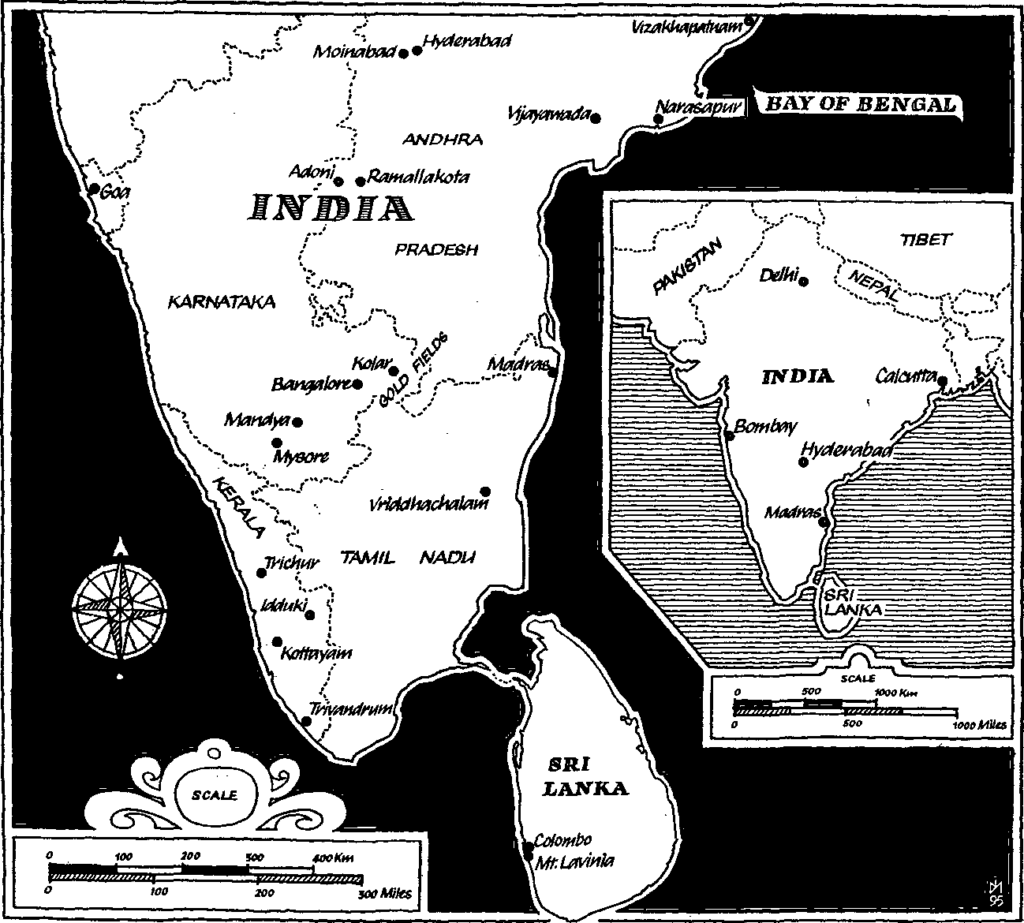 Melbourne health worker visits India
In the mid-1970s Brother Tim Galbraith of Melbourne, upon learning that the Gospel Publicity League had hundreds of correspondents throughout India, felt moved to go there. He was an administrator in mental health and, in 1976, he found opportunity to attend a medical conference in India and spend two months touring the country, armed with his list of 400 con­tacts. That visit whetted his appetite, and in 1978 he set out again, this time having organised five months' leave. He toured India from north to south, discussing the Truth with those who were receiving Present Day Events, and making a point of visiting those who were already translating and printing the literature in their own language.
Tim was frequently invited to speak to communities, including a group known as 'The Millenial Dawnists'. They were followers of the writings of Pastor Russell (a forerunner of the Jehovah's Witnesses). It seems that, in the 1920s, strenuous efforts had been made throughout the world to induct his followers into new practices and new beliefs – especially to disown the teaching that Israel would return to their own land as a sign of the return of Christ in the last days. However, this changeover in beliefs was not as effi­ciently done in India as elsewhere, and little pockets here and there con­tinued to follow Russell's teaching. These provided fertile soil where the message of Present Day Events was gratefully received. Brother Galbraith spoke at these meetings; they in turn opened out areas of new contacts.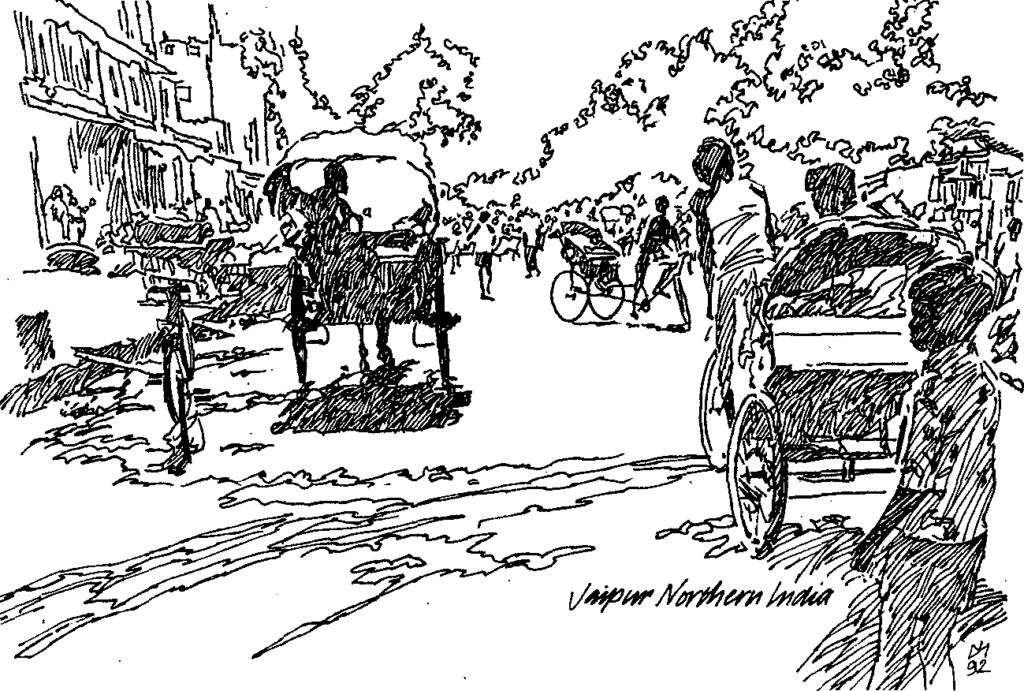 Love in action
Another milestone came when Tim gave a series of studies at a home in Hyderabad. Among friends and neighbours who came to listen, there was a beautiful young girl, Sarah Paul. Sarah's family were Methodists, but she listened with great attention to the message. The time came for Brother Tim to return to Australia, but Sarah followed later and, before long, was baptised by the Beechworth ecclesia. She and Tim married in 1979, and in April that year they moved back to Hyderabad, from where they have since been heading the endeavours to reintroduce Truth to this huge country.
Just as Tim Galbraith was moving to settle in India, a Hindi-speaking Indian named Judah was being baptised by the East Ham ecclesia in London. He had lived most of his life in Ethiopia, and had become the head­master at a school there; but, with the overthrow of Haile Selassie's regime, he had been forced to flee to England. This misfortune led to the blessing of finding the Truth, and within months of his baptism he had decided to take his wife and return to his homeland in India. Soon after Tim Galbraith had settled in Hyderabad, Brother Judah arrived in Jabulpur, some 500 miles to the north. But they were difficult times for the brethren, separated by 60 hours of uncomfortable train journey.
Encouragement for the Galbraiths came when Sister Elvira Paul, mother of Sarah, was baptised in Hyderabad. She was possibly the first baptism in India since the days of the Madras ecclesia, early in the century.
In the meantime, Brother Judah had been busy in Jabulpur, but, having been hampered by ill health he moved to Hyderabad and joined the young ecclesia there. He produced a Hindi translation of the Bible Correspond­ence Course and concentrated on tutoring work. Later, he returned to Hull ecclesia for a few years, before he died.
Preaching with a conscience
At the end of 1979, Brother David Caudery travelled from Melbourne to visit the Galbraiths, and spent a month touring over 2000 miles with Tim and giving daily Bible addresses. They were anxious to see what could be done to create an effective missionary organisation to support Brother Tim's work. One factor very much on David's conscience was the abject poverty he saw on every hand. There was virtually no social security, as in Western countries; you could not leave welfare to the government, or to anyone else.
'No true follower of Christ can live with his conscience in India without getting involved in trying, a least a little, to alleviate the dire misery around him.'
One direction such efforts might take had been suggested at that health conference Tim had first attended in India. A doctor who had befriended him commented on the vast waste of money and energy by foreign mis­sions in setting up hospitals and clinics when – with less effort and money a large measure of the cause of ill-health could be tackled at the begin­ning. This led Brother Tim to institute what is now generally known as the 'SUN Scheme' – the Supplementary Nutrition Scheme. At the outset he financed a small pilot operation, and sought to introduce it wherever he could obtain reliable voluntary helpers. One major centre was established in Tenali, where a Dr Scrinavasa Rao, with his wife and daughters, ran a scheme and, later, under Tim's direction, a small orphanage. By 1982 there were 12 distribution points for the nutrition drink, supplied three times a week to the impoverished and under-nourished children of the poorest segments of the population.
Later, in Hyderabad, the SUN Scheme was extended to provide help to the lepers. This was in support of a local doctor who worked amongst them. Blankets and medicines were contributed and, by 1992, land had been bought so that a leper rehabilitation centre could be established by this doctor in a village outside Hyderabad.
An Indian sister's vision
Another factor that would greatly influence Brother Tim Galbraith's activi­ties in India was the enthusiasm of his mother-in-law, Sister Elvira Paul, to see the establishment of an orphanage. She herself had been brought up in one and, teaching in a village school at Moinabad, outside Hyderabad, she was very conscious of the number of children without parental care and support. In 1981, she persuaded Tim to rent small premises in the village where, with another helper, she looked after the basic needs of 12 home­less children. This was the beginning of a very practical and charitable project, and it is still growing! An acre of land was purchased with the help of the Christadelphian Meal-a-Day Fund in Britain, which also contributed to the erection of a substantial building. Next, a Babies Home was built alongside, then two further buildings and, later, a second storey added to the original premises. A further two-storey building was erected in 1995. Thus, up to 50 children can now be cared for quite adequately. In 1992 came the first baptism of young people raised in the homes who, in their late teens, decided to commit their lives to Christ. At the time of writing there have been three others, as well as a marriage in the Lord. Sadly, Sister Elvira Paul died in 1996. (It should be noted that the Orphanage and SUN schemes are independent of the main ACBM mission operation, but all the organisers work in close cooperation.)
Preaching expands
The years since 1980 have seen the extension of Correspondence Course support schemes from Australia and New Zealand. This led to three bap­tisms in the State of Karnataka of leading members of the 'Millenial Dawn' organisation. At the end of 1981, a separate Mission presence was estab­lished at Bangalore, some 350 miles south of Hyderabad. Ray and Barbara Allanson, with their two young daughters, moved from Whangerei in New Zealand to take responsibility for Mission work in the southern States of Karnataka, Tamil Nadu and Kerala – with a population of 100 million people. This left Brother Tim with the other 700 (now 800) million! The Allanson family stayed for 2 and a half years, during which they laid the foundations of a growing ecclesia and an established Mission presence. The Bangalore Mission Office has been staffed ever since by a rotation of fieldworkers, often-husband-and-wife teams for months at a time. In 1994 the Mission purchased a prominent two-storey building in a main-road location 2K miles from the centre of Bangalore. It provides ample space for accommo­dation, offices and a meeting room, and it is the 'operations centre' for the Mission's work throughout India.
---
Into All the World (1998)
This is Brother Stanley Owen's personal history of the work of the CBM, ACBM and CBMA preaching abroad these last 50 years.
Read a Review by Andrew Walker
Purchase from The Christadelphian Office (£7.50)